18
Jul
July 17th, 2017
CHRONIXX CHRONOLOGY ALBUM REVIEW
Written by Shana McCalla
The long awaited Chronology album was released on 7.7.17 by Chronixx, as if spirituality chosen, the numerology on the release date is on point.  The music is top level artistic sound.  The album begins with Spanish Town Rockin and this song takes me to the old school reggae ska feel good vibes and lyrics to back it up with a homage to his hometown in Jamaica. Chronixx and his music has been branded as a "Reggae Revival", alongside other reggae musicians including Dre Island, Jah Bouks, Jah9, Protoje, Jesse Royal, Kelissa, Keznamdi and Kabaka Pyramid.  Chronology is the reggae music for the soul summer album. Big Bad Sound gives us a taste of the roots behind his musical talents.  It features Chronicle, his father on the the track.  I was pleasantly surprised and love this tracks drum and bass.  Chornixx does a great job at honouring the reggae legends that have come before him, as seen on his previously released single Likes.  Skankin Sweet, everybody wanna feel irie..  it brings a lovers rock feel that melts any negative vibes away.  "Grooving all the troubles away" Chronixx is well known for that.  I've been watching this artist since the launch of Roots Reggae Hub, in 2012 and his rise to main stream media bringing roots and culture vibes with him all the way.
Chronxix does a great job at fusing genres into the album like, pop, hip hop, ska, dub, dancehall, roots and culture reggae. There's a bit of everything in the Chronology album.  People born and raised in Ghetto Paradise, can relate to his lyrics, Chronixx never fails to deliver the brutal truths of the corruption in a babylon system; that we know works not for us, but against us.  Spirituality and knowing who you are and where you come from may be the only way to break the chains of the modern day mental slavery.  In past music Chronixx has not hesitated to talk about the white-supremacy systematic brutality against our people with the anti-colonial Captureland, Start-a-Fyah and Capitalist.  Truly Chronixx speaks of life in Jamaica with, Country Boy and this song tells a story of a real boy living in Kingston Town.  The guitarist in the last minute of the song takes you to another dimension.   Chronixx lets it be known that "No sin goes unpunished for sure".
A fan favourite is brought back by the remastered track Smile Jamaica  the song was love at first listen for me.  For a descendent of Jamaican heritage this song rings true to the soul.  Chronixx brings the roots rock reggae vibes into the 21st century and people from around the world can relate to his undeniable lyrical gift.  I Can – the summer anthem for all those struggling to stay positive everyday, living their truth and chasing their dreams, give thanks and remember your time will come.  "Follow your heart and know you'll be fine…".  This song is a reminder that a catchy chorus will always make for good music that your fans can sing along to (They worked with Diplo on this). "Every morning I rise and stare at the sun…with my two hands in the air as far as I CAN.  This album is calling all Selassie Children, to take your rightful place on the throne of humanity.  "Jah children shall win the war, cause we know who we are."  "Africa was born in us", a mantra that every African descendent should chant right back to the motherland.  I Nation and Jah9 get a nice shoutout in this track.  Love the RASTA FARI vibes on this one.
One of the most important songs on the album is Black is Beautiful which speaks so much truth for the black community that is bombarded with images of the "white" standard of beauty.  This veil has been lifted as the conscious kings and queens of today know we are the standard for beauty.  This song brings a hip hop vibe to the mix and Chronixx does this fusion justice.  Finally a young up and coming reggae artist that can be compared to some of the greats that put conscious roots and culture reggae on the map, Bob Marley, Peter Tosh and Garnett Silk.  The ladies loved this single when it came out, I know I did.  Majesty is a dedication to the empresses and we feel the love.  The musical accompaniment is stylistically driven with beautiful back up vocals in melody.  Chronixx delivers more of that lovers rock feel with Loneliness, it's a pop reggae fusion and a nice song for the lovers going through summer nights longing for each other.  "We do it for the love, me nuh do it for the likes.." who knew dancehall could be conscious?! Yes,..you can wine up pon someone to this song.  The single Likes, was released earlier this year to rave reviews.  It's nice to see it on the album.  The best part of the song is when he gives "credits in dancehall fashion.." Chronixx continues to honour the reggae legends that have come before him.
The lovers rock track Tell Me Now, is reminder that Chronixx is here to stay with true musical genius and big up to Zincfence band. "Nobody knows what the future holds"…but for reggae music it looks promising. The next track on the album is Legend – it speaks to the ordinary people out there, working hard, and changing the world in their own unique way. We're all legends in our own right.  A beautiful back up choir is heard singing background in this song and the musical composition is incredible.  I think we all want to know who's Christina? Soul and funk vibes come with this track and brings me back to highlighting the fact that Chronology is truly a fusion of genres.  Chronixx does this well and seems to have raised the bar for reggae music worldwide.  The bonus track on the album I Know Love, is a reminder that love is a powerful weapon to uplift mankind and it can raise our frequency on this planet.  We have a responsibility to humanity, ourselves and to our ancestors.  "Jah and love are one and the same". Thank you Chronixx and BIG up the whole camp. It's great to see so many great artists are representing Jamaica and raising the bar for conscious lyrics in the roots and culture reggae worldwide circuit.  8.5/10 Ease out!
Chronology Track Listing:
01. Spanish Town Rocking
02. Big Bad Sound feat. Chronicle
03. Skankin' Sweet
04. Ghetto Paradise
05. Country Boy
06. Smile Jamaica
07. I Can
08. Selassie Children
09. Black is Beautiful
10. Majesty
11. Loneliness
12. Likes
13. Tell Me Now
14. Legend
15. Christina
16. I Know Love [Bonus Track]
Get your copy today http://www.chronixxmusic.com/
Chronology upcoming tour dates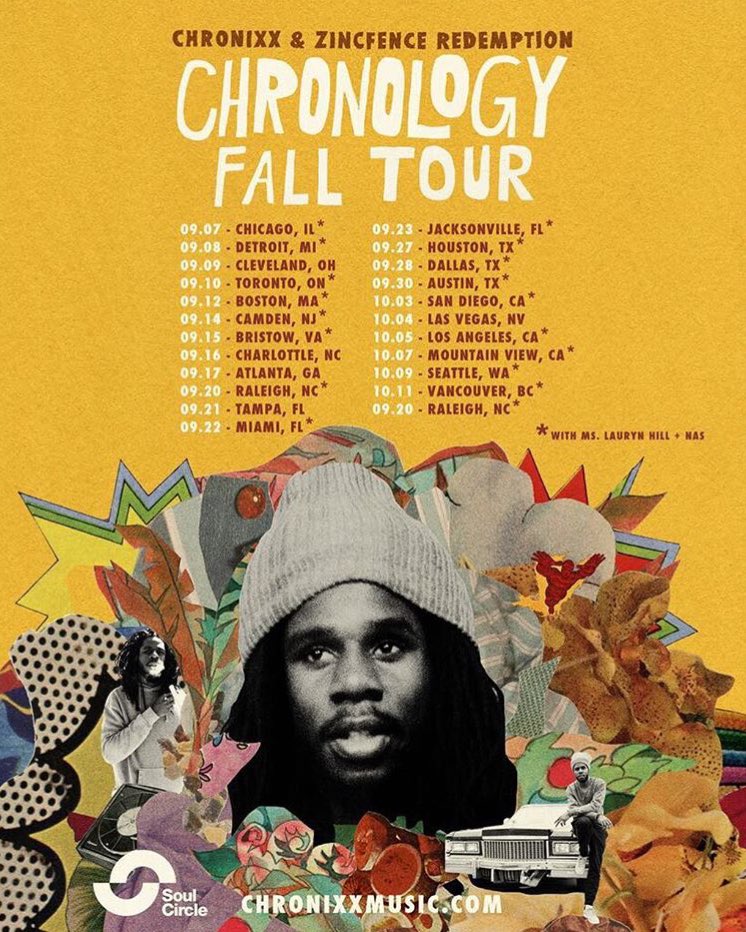 8.5/10
CHRONOLOGY -

8.5/10