23
Feb
JOHN AKPATA, CANADIAN POET FEATURED AT POETRY in MOTION, JAMAICA,

FEBRUARY 26, 2017
The Northern Griots Network (NGN), in association with POETRY in MOTION (PiM), is pleased to announce that Canadian poet John Akpata is a feature performer at the 14th Annual Poetry in Motion at Manchester Golf Club on Brumalia Road, Mandeville, on

Sunday, February 26, 2017

. Showtime is slated for

6:00 pm
Akpata, who is of Nigerian and Guyanese heritage, is an exceptionally talented performer and spoken word poet based out of Ottawa, Canada.
He has won numerous competitions and awards, toured nationally and internationally, and released five albums of poetry and music. He was recently featured in the seminal anthology, The Great Black North: Contemporary African Canadian Poetry.
He is also an Art Educator, having taught Poetry and Spoken Word Workshop at several high schools in Ottawa as well as serving as a poet in residence. As a radio broadcaster, he is the host of

Monday

Night Scribes on CHUO 89.1 FM, a radio show playing spoken word poetry, reggae, hip-hop, and African music.
The Northern Griots Network (NGN) is a collective of Canadian spoken word artists that networks diverse spoken word poets and presenters. The NGN connects artists and presenters nationally and internationally to stimulate artistic growth, increase opportunities for artists, and support social engagement and advancement. The NGN is supported in this work by funders like the Canada Council for the Arts and the Ontario Arts Council, among others. The NGN also wishes to thank organizer Yasus Afari for his international collaboration and work in in hosting John, as well other top Canadian spoken artists like Shauntay Grant, El Jones, Izreal Reed, and Kevan 'Scruffmouth' Cameron on several poetry platforms including Poetry Motion.
Oth
er peformers for Poetry in Motion 2017 are Dr Herbert Thopmson, Myrna Hague, Marjorie Whylie, Dufton Shepherd, Steppa, Annmarie Wilmot, Ruth Nadolny (from Chicago, USA), Osheen Wright, Delcia Wiggan, Shamoya Samuels, Yasus Afari and a  very special surprise guest.
This year Poetry in Motion is supporting three needy charities while providing its trade mark Clean Intelligent Fun. Tickets are available at Fontana Pharmacy, Heaven's Texaco, Manchester Golf Club, Mandeview, Vill, Junction Pharmacy, VW Investment Cambio, Mi Hungry & Dr Little's Office, among other locations across Jamaica.
We look forward to seeing you at Poetry in Motion 2017 on

Sunday February 26th

.
The Northern Griots Network (NGN)
Poetry in Motion 2017 – Sunday February 26 – Clean Intelligent Fun! Be There!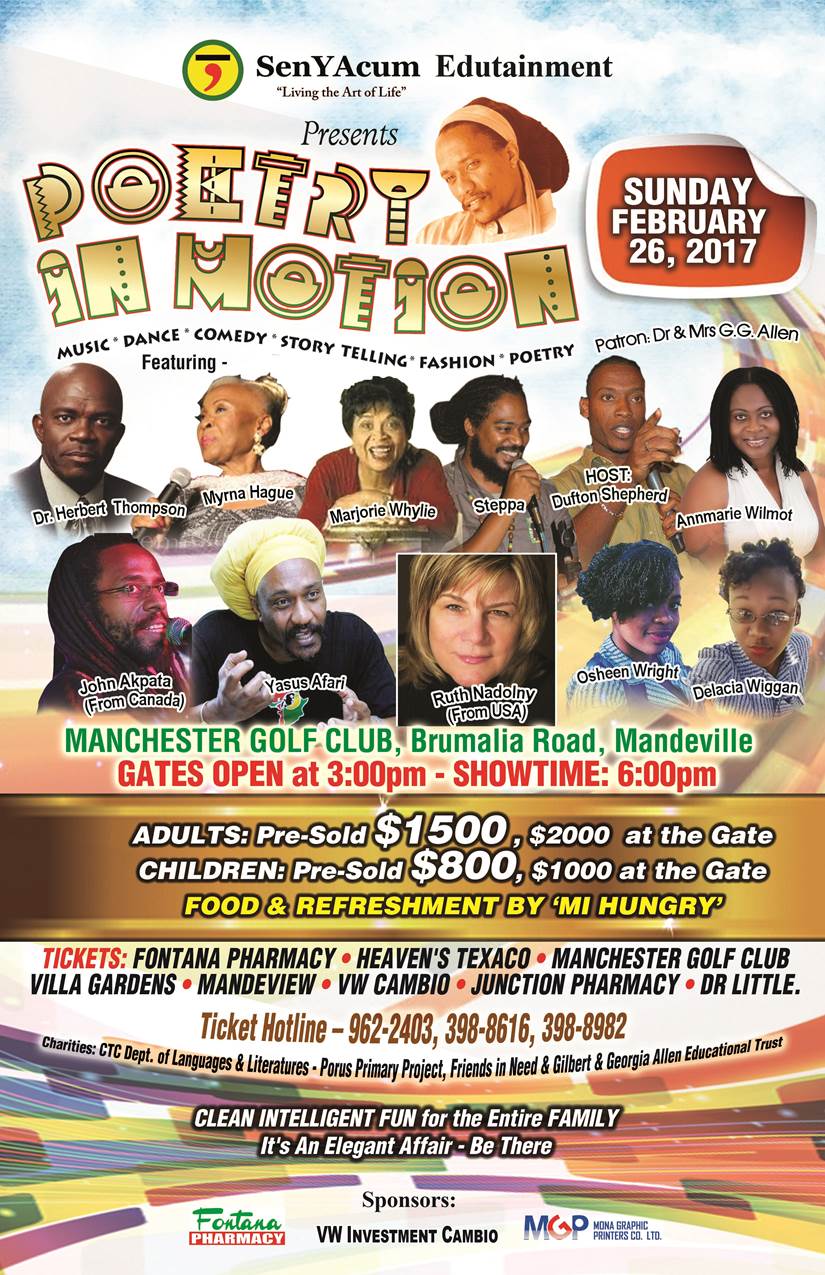 1Earth,1Love,1Humanity – Honour, Love & Prosperity